A regional collaboration needed to fight plastic pollution across the EAC
East African Community (EAC) is urged to develop and implement a common policy to fight single-use plastic items in the region; as plastic pollution is a borderless issue that cannot be tackled without integration.
In the campaign dubbed Single-use Free EAC, the Executive Director of GER-Rwanda, Mr. Innocent Musore, explained that plastic pollution is a global issue that requires joint effort in the EAC region.
Rwanda has imposed a total ban of plastic bags in 2008, and in the recent case study, carried out within our communities where we operate, has shown the success of the ban thanks to the collaboration between leadership and communities. From community awareness and perceptions, the evidence from waste collectors from sources to dumpsites said that plastic bags are no longer found in the waste they collect.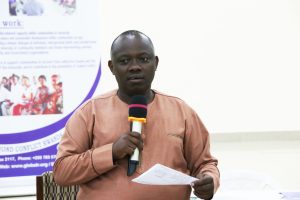 Mr. Innocent Musore, said that However, people living near the borders claimed the flow of plastic bags from neighbouring countries either by way of black markets, plastic bags floating over Lake Kivu from DRC, etc.
"Therefore, if there is nothing done for the whole region to take the same measures against single-use plastics, our effort will not yield any impacts."Said Mr. Innocent.
GER-Rwanda participated in the development of a regional investigative report developed to analyse the current situation in all four countries and to understand the trade and the flow of plastic carrier bags that have been fully banned in Rwanda, Tanzania and Kenya but are still found and used in some of these countries and hence affect the region as whole.
The report was developed in partnership with four organisations in the region namely, GER-Rwanda, NipeFagio in Tanzania, Bio Vision Africa (BiVA Africa) in Uganda, and the Centre for Environmental Justice and Development (CEJAD) in Kenya.
Each country in the region has taken policy efforts introducing regulations to ban the manufacture, importation/exportation, and consumption of plastic carrier bags, however the implementation of such policies in some countries is still lagging. The report shows that Rwanda was the first to impose a ban on single-use plastics beginning with plastic carry bags in 2008 and a total ban on all single-use plastic items in 2018.
Although the latter is still facing some challenges and exceeding deadlines to have removed all single-use plastic materials on the market, these bans have had the most successful outcomes that need to be shared as Rwanda's experience that beating plastic pollution is possible.
The Single-use Plastic Free EAC campaign has been able to capture attention for the needed regional collaboration to fight Single-use plastic pollution. The report as per countries case studies, recommends governments in the EAC and widely the East African Legislative Assembly (EALA) to develop a common law on single-use plastic that creates barriers for cross-border smuggling of plastic bags and other single-use plastic materials, advocates and promotes the availability of reusable materials and other alternatives to single-use plastic items.
It also recommends to strengthen regional and global cooperation on plastic issues and strengthen and monitor implementation of respectively adopted policies in members of the EAC.
The Government of Rwanda has passed a proposal for the international treaty on Plastics.
According to Rwanda Environmental Management Agency (REMA), the resolution represents the most ambitious global move against plastic pollution to date and seeks bold, urgent, and united action to tackle this transboundary issue.
GER-Rwanda believes in experience sharing as a way of influencing other countries, especially neighbouring ones, to take actions on plastic pollution.

Marie Louise MUKANYANDWI